Militus, The Black Knight
From ZFGCpedia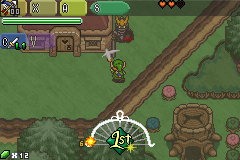 Militus Stonefield, also known as the Black Knight, is the final enemy Link will encounter inside The Black Herot. The only way to gain access to him is through defeating Cynthia Stonefield, who is also located inside The Black Herot.
Boss Fight
Unlike normal soldiers, Militus has a high amount of HP and defense, making him tough for the player to defeat. Militus is accompanied by weaker Mecha soldiers, which can be defeated easily and explode upon defeat. The blast can damage Militus, making the battle end quickly.
Weakness
His only known weakness is bombs/explosions. Use such will aid the player in battle to easily defeat Militus. The Mechas are capable of exploding, however, there are a limited amount of them in the room, so it is best to plan ahead, otherwise defeating Militus will take some time.